Welcome to camping Castel les Criques de Porteils*****

In a world of its own, the Camping Castel Les Criques de Porteils is a 5 stars campsite located a short distance from Collioure and at only 3 kms away from Argeles sur Mer.  An exceptional and unique site for lovers of luxury  camping and   5 stars campsites in a very prized location of our rocky coast. It is a wonder, a rarity in the department: a luxury campsite, a 5 stars campsite between Collioure and Argeles sur Mer, away from the crowds of summer with its private beaches and relaxed lifestyle.
Aerial Video of Camping Castel Les Criques de Porteils
Under the Mediterranean sunshine and close to the natural underwater reserve of Banyuls Cerbère, our seaside  camping is the ideal place to enjoy a stay in a luxury surroundings just a few minutes walk from the typical village of Collioure where luxury and simplicity harmonize and not far from Argeles sur Mer and its regional shops.
Since obtaining our 5 stars we do not relax our efforts in term of services and facilities. Your satisfaction is and will remain our priority!
We offer a wide range of camping and a rather unusual novelty for nature lovers as well as Mobile Homes rental and Bengali.
We will make your holiday unforgettable in the region of Collioure and Argelès-sur-Mer, as we "Catalans"  are proud of our roots and proud of sharing a piece of our chip inked in the Roussillon.
Les Criques de Porteils Campsite Map
Luxury holiday in a 5 stars camping on the seaside.
Access Map
How to get to the Camping Castels Les Criques de Porteils, 5 stars campsite located between Argeles sur Mer and Collioure?
GPS :
 N42°32'5,665" E3°4'12,666"
By car
Access from the A9 motorway is easy and avoids the centre of Perpignan.
Take the exit 43 at Le Boulou, follow Argeles sur Mer, then D 914 to Collioure. Leave at junction 13 signed « Collioure par la corniche ». After a few hundred metres turn right at the Hôtel du Golfe, direction Camping Les Criques de Porteils.
By train
Change in Perpignan, take the train to Collioure. The campsite is 2kms away from the train station.
By plane
To Perpignan-Rivesaltes airport then Taxi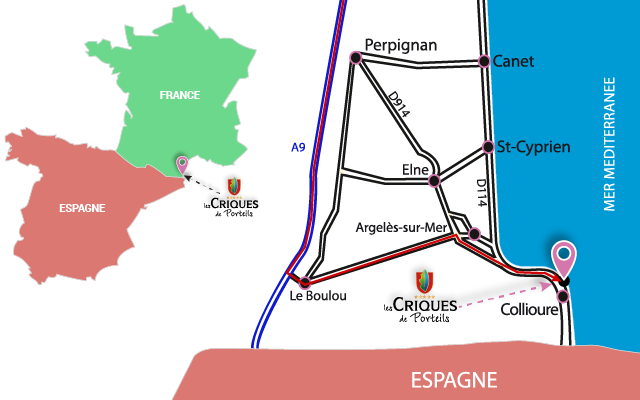 Accessible for people with physical disabilities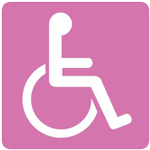 To ensure the best possible welcoming of our guests with physical disabilities, we propose appropriate services and equipment:
Our staff is trained to make your stay easier on our campsite.
All public buildings are equipped with ramps making it accessible to people with disabilities.
All our campsites for tents and caravans are easily accessible.
We offer two cabins that are equipped with shower, sink and toilet to the latest standards. You can collect the key at reception.
The Art of Service
The art of service in a Luxury 5 stars campsite on the seaside !
Availability: our expertise !
For an increasingly personalized welcome, our team puts its expertise at your disposal to ensure you a quality stay up to the standing of our 5 stars campsite, exceptional site located in the south of France between Argeles sur Mer et Collioure.
We would like to remind you that we welcome and accept dogs (except 1st and 2nd categories) on camping and in some of our rental units.
Our shops
The Campsite restaurant
A breathtaking view on the sea and on Argeles sur Mer from the restaurant panoramic roof terrace over our privates beaches.
The restaurant propose you a menu of catalan specialties.
A cuisine that celebrates seafood and products of our local terroir. Enjoy tasteful starters, delicious dishes like grilled meat and fish and typical Catalan desserts accompanied by great local wines which have been selected for you with care.
For gourmets, the season will be punctuated with themed dinners…
Hungry after swimming?
The restaurant welcomes you with its Bistrot menu: Homemade hamburger, "Croque-monsieur" with country bread, pastries … and not to mention a wide range of takeaway!
The Store
A dedicated team welcomes you every day and offers:
Beach items and souvenirs throughout the season.