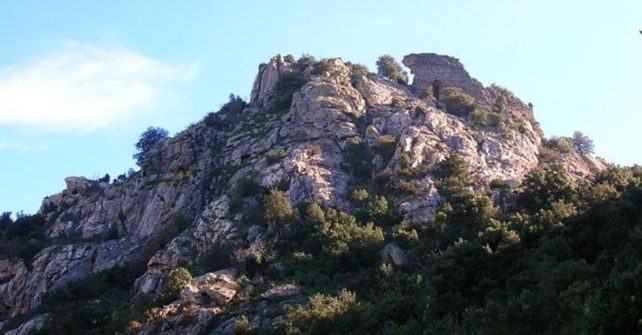 Sorède
Discovering the hermitage of N.-D. Castle and the ruins of Casteil d'Ultrera. A magnificent panorama awaits you at the top.
3 h / 8,5 km

PARKING
Townhall

TO DISCOVER ON THE WAY
Chapel of Christ, Church of the Hermitage, ruins of the Castle of Ultrera, archaeological site of a medieval habitat, former solar oven of the "Padre Himalaya"
HERITAGE
Ultrera, a strategic place
It is on this rocky peak, perched at 530 m altitude and overlooking a passage between Roussillon and Spain that the Romans and later the Visigoths (fifth century) built the castle of Ultrera, a high place of surveillance and defense in these times agitated by many conflicts. It was destroyed in 1675, but its chapelle (Notre-Dame du Château) was rebuilt in 1685. On the pass of Ultrera, perfectly exposed to sun rays Manuel Antonio Gomes (né en 1868), portuguese catholic riest nicknamed Padre Himalaya with his 1,93 m, scientist bulimic, precursor of so-called renewable energies, built in 1900, the largest solar oven at that time (more than 7 m high) reaching a temperature of more than 1500°C.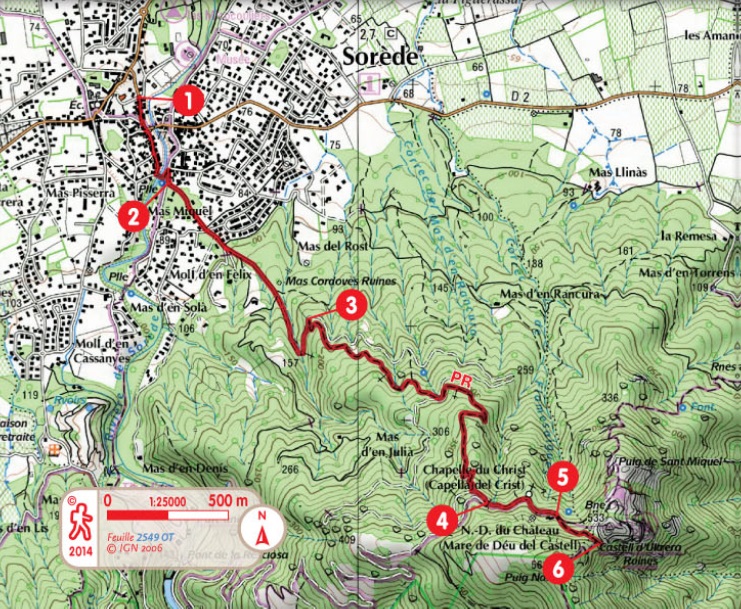 MARKING
Yellow, except in town
DIFFICULTIES
None
1 Exit the car park by taking Rue de la Caserne on the right. Before the bridge, continue straight through rue des Lilas and Font del Sabaté. Leave it at a bend to find on the left the bridge that crosses the river Sorède. At the exit on the street N.-D.-d'Ultrera, turn right
2 At the Christ, turn left and continue straight ahead to the end of the road. At a small car park, continue on the dirt track. About 100 m further, at the entrance of a bend, reach an intersection with the N.-D.-du-Château trail.
3 Leave the track to take this path that climbs through the maquis and cork oaks. Above, pass the Font del Pardal and head to the track; cross it to take the path a few meters down towards N.-D.-du-Château. The trail joins the track again under a mast of antennas; go up on the left to a car park at the junction with the track that comes from the "Vallée heureuse".
4 Pass the barrier. Further, on the left, notice the chapel of Christ, then reach the hermitage of N.-D.-du-Château.
5 Bypass the hermitage by the east. Take the path that climbs to the right. you arrive on a first platform (view of the ruins of Castell d'Ultrera). Continue a few tens of meters to the right and arrive on a second circular shaped platform (foundations of the former solar oven Padre Himalaya).
6 Take the way back (a variant is possible downhill by the track, count 2 km more).