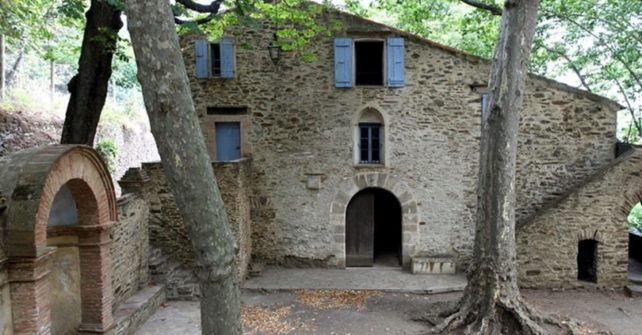 Collioure- Port-Vendres
Gateway to the assault of a vineyard in terraces, between beautiful stones and scrubland, with the Big Blue at our feet …
3 h / 10 km

PARKING
Parking of Glacis next to Fort Royal (paying)

TO DISCOVER ON THE WAY
Hermitage Notre-Dame-de-Consolation, Art modern museum, vineyards, fort Saint-Elme
HERITAGE
Collioure, city of famous painters
Difficult to remain insensitive to the solar and Mediterranean charm of Collioure. As early as Antiquity, the Phocean, Greek and Roman navigators made frequent stops there.
Between 1276 and 1344, theCatalan kings of Majorque will give its letters of nobility to the small port city by coming there to take their summer quarters.
They will build for the occasion, on the remains of ancient Roman buildings, the royal castle, emblem of the city.
In the twentieth century, the exceptional luminosity of Collioure attracts many prestigious artists (Picasso, Mucha, Braque, etc.).
It is here that Matisse and Derain created fauvism during the summer of 1905. Hence the nickname "city of painters" since attributed to the city.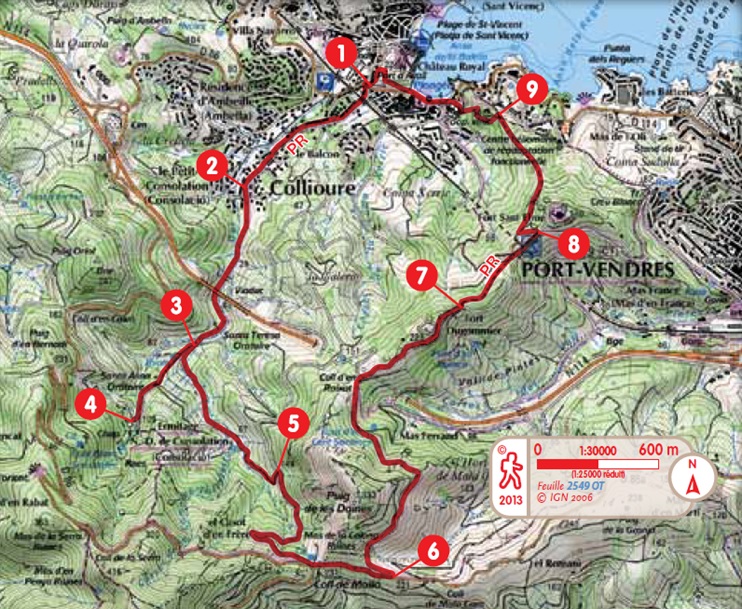 MARKING
Yellow
DIFFICULTIES
None
1 From the parking lot, down to the roundabout. On the opposite take the street of the Temple which goes up on the left of this one. Pass under the railway and continue opposite, rue de la Galère. Go straight at the crossroads by the path of Consolacio (arrow "Consolation"), until a fork.
2 Go up on the left (arrow "Consolation"): the small road leaves the village and rises in the middle of the vines in terraces. Go under a road viaduct and continue in front. Exceed the Sainte-Thérèse oratory of about 120 m and turn left for a few meters.
3 Head towards the hermitage Notre-Dame-de-Consolation by the concrete and paved ramp which starts steep on the right. While she is moving flat for 150 m, leave it to climb on the left by a few steps and reach the hermitage.
4 Go back down the same way up. 3 Take the small road turning right; it sinks into the valley, turning into a track, then reaches a small road.
5 Take this road on the right to climb up to Coll de Molló. Go left to Port-Vendres. After 400 m, arrive at the Mara Cara pass (view on Port-Vendres).
6 Go up on the left on track DFCI n°AL 45. Pass the highest point of the circuit (view over fort Saint-Elme). Then enter a long descent on the main path on the right. It opens onto a road; it leads right to Fort Dugommier. pass the fort
7 After the rock, find on the left the start of a trail. It turns quickly right along a wall. This "balcony on Collioure" goes to reach Fort St. Elme.
8 From the road to the foot of the fort, we approach the descent on Collioure by a path on the left, then on the right lower down the slope
9 Arrived at the level of a concrete ramp, go towards the mill and pass it on its right. A series of stairs then leads to the corner of the Museum of Modern Art: find on the left the quays of the cove de la Balette. Go left, then go up to the car park.