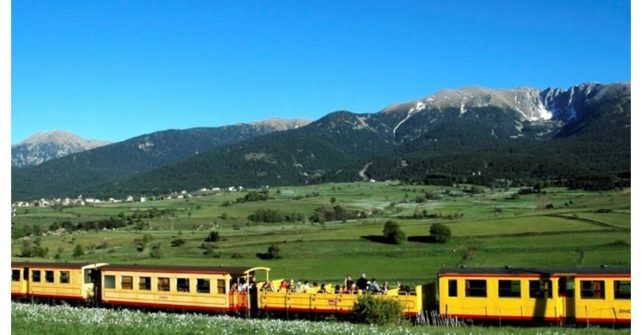 La Cabanasse – Sauto – Planès – Fontpédrouse
This itinerary with varied landscapes offers to combine travel by Yellow Train, walking and swimming in Saint-Thomas-les-Bains.
4h30 / 10,5 km

PARKING
gare de Fontpédrouse (prendre le train et descendre à La Cabanasse)

TO DISCOVER ON THE WAY
Yellow train, Gisclard bridge, hot water baths of Saint-Thomas
HERITAGE
A train like no others
The Yellow Train is one of the jewels of the departmental heritage. Commissioned on July the 18th, 1910, the "canary", as affectionately nicknamed by locals, circulates on the highest rail line without French cram.
It connects Villefranche-de-Conflent to Latour-de-Carol and culminates at 1592 meters above sea level at the Bolquère-Eyne train station.
A sinuous tracing with slopes at 60% … to carry out the building site, the designers of the line have had to deploy treasures of ingenuity and build no less than seven hundred works of art including the famous Gisclard bridge, classified as a historic monument since 1997. It was the first suspension bridge in the world designed to support rail traffic. A true technical prowess.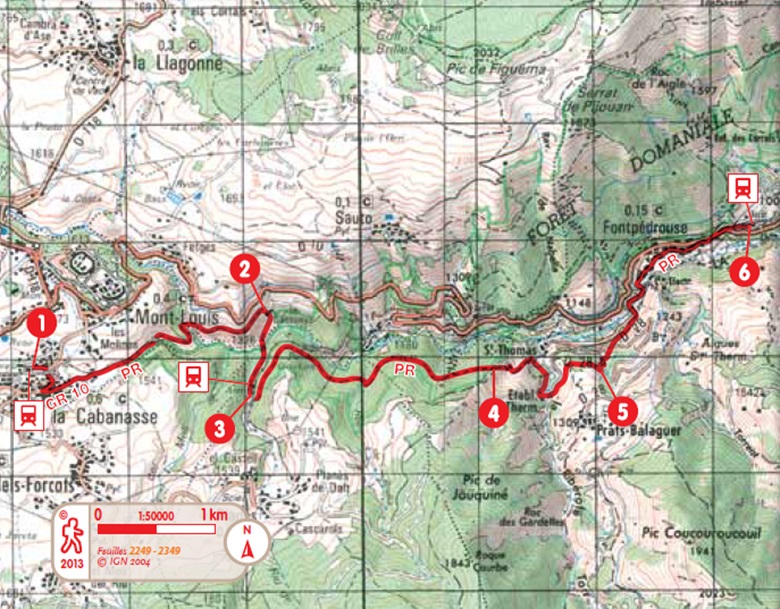 MARKING
Yellow
DIFFICULTIES
Route itinary (Check train time tables) Money needed
1 From La Cabanasse train station, turn right towards the center, then take the street on the left (white-red marking of the GR® 10). Do not cross the small bridge on the right, but continue in front. Continue along the path that runs along the railway line and pass under the viaduct of the train. The path becomes a path. Take the bridge, then arrive at the Mas de la Cassanye.
2 After the mas, go down on the right by the steep path, cross the Tet on the stone bridge and continue along the path on the right. Pass near the station of Planès, then under the railway bridge,
3 Just after the bridge, turn left on the little path that goes up the Gisclard bridge. Continue straight ahead, neglecting two trails on the left. Go up slowly to reach a crossing dominating the Riberola Valley.
4 Go down the valley to the hot water baths of St. Thomas. Cross the spa, reach the car park and go to the right of the concrete steps to find a wide path. Continue straight, leaving two intersections, on 800 m.
5 Go down on the left by the winding trail. Cut the D28, continue on the opposite path, cross the bridge over the Tet river and continue on the D28 for 300 m (caution!). Bifurcate on the road on the right, cross Fontpédrouse, go along the N116 (caution!) And take the second road on the left to get back to the station 6.