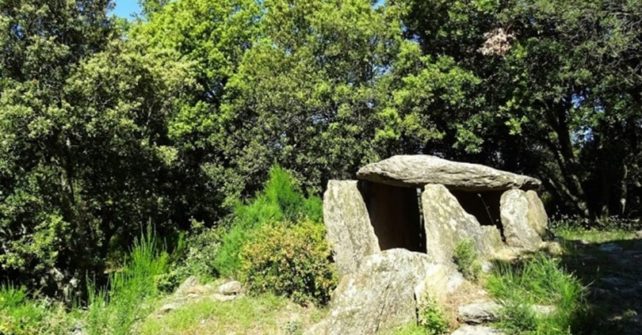 L'Albère
This hike offers you a trip to the heart of the Albère, its cork oaks, its history and its secrets. From dolmens to orris, between Pyrenees and Mediterranean.
3 h / 6 km

PARKING
Town hall

TO DISCOVER ON THE WAY
Dolmen of Na Cristiana, military works, chapelle, Puig Sant-Cristau
HERITAGE
The dolmen of Na Cristiana
Identified since 1887, this narrow-walled dolmen was studied and restored in 1970 by Jean Abélanet. With a room of about 5 m long, it is one of the largest dolmens in the department. The restoration enabled the recovery of the cover slab and one of its supports. The contours of the tumulus that surrounded it were not well defined.Near the building, you can see the granite chaos of fine grain, from which the slabs are extracted. The excavation of the room and its surroundings yielded Roman and medieval shards, witnesses of the many remodeling of the building, but also the ceramics dating from the late Neolithic (about -2200 years BC), period of its construction.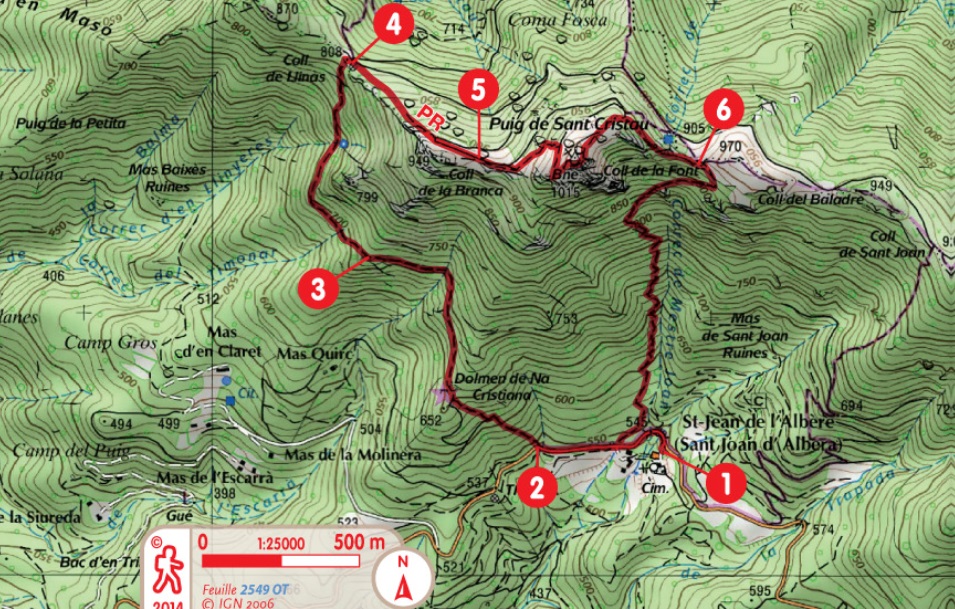 MARKING
Yellow
DIFFICULTIES
Several tricky passages.
1 Go past the town hall, then in front of the hostel and follow the road for about 250 meters to the path that goes right into the woods.
2 Take this rocky trail that climbs steeply into the woods and leads to the Na Cristiana dolmen. Continue leaving the dolmen on your left. Some difficult passages offer delightful beautiful views one after the other until the arrival on a small plateau.
3 The path descends a little in the woods (some delicate passages overhanging), then goes up to reach a clear platform at the Llinas pass.
4 Continue to the right, always going up to the Branca pass.
5 The rocky and steep path leads to the summit of Puig Sant Cristal. Bypass on the left the small restored chapel to go down through rocky peaks (caution!). Join the Coll de la Font.
6 The descent is then through a wood path (a bit steep and slippery), until you reach the road facing the hostel Can Joan.
Join the parking of the town hall by road.