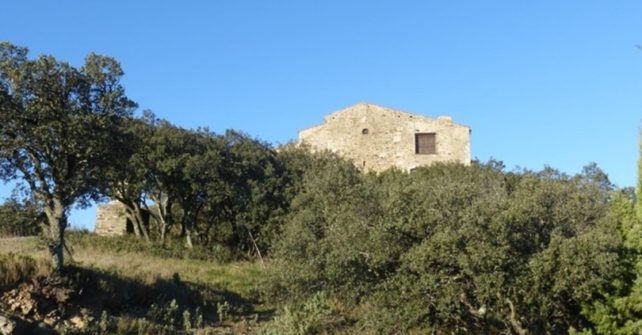 By the botanical trail– Millas
At the discretion of a botanical trail, no need to go very high and hike for hours to get an overview of the whole department!
1h20 / 3,4 km

PARKING
col del Bou, at 7 km north of the village by D612 and D38 (On the road to Hermitage of Força Real)

TO DISCOVER ON THE WAY
17th Century Hermitage of Força Real,, botanical discovery, 360° over the Pyrénées-Orientales
FAUNA AND FLORA
The botanic trail
The botanical trail of Força Real allows to discover the extraordinary diversity of the Mediterranean flora present on this summit. The path, winding through the hills is a delight for the senses. The different species flourishing according to the altitude, the orientation and the quality of the soil, are indicated and presented by illustrated panels.
Cists, holm oaks and kermes, Corsican alder, Atlas cedar, wild olive, pistachio, eucalyptus, cypress, pines, mimosas, broom. This great diversity of plants accompanies the walker to the top of Força Real, its old hermitage, its television relay and its 360 ° panorama on the whole department.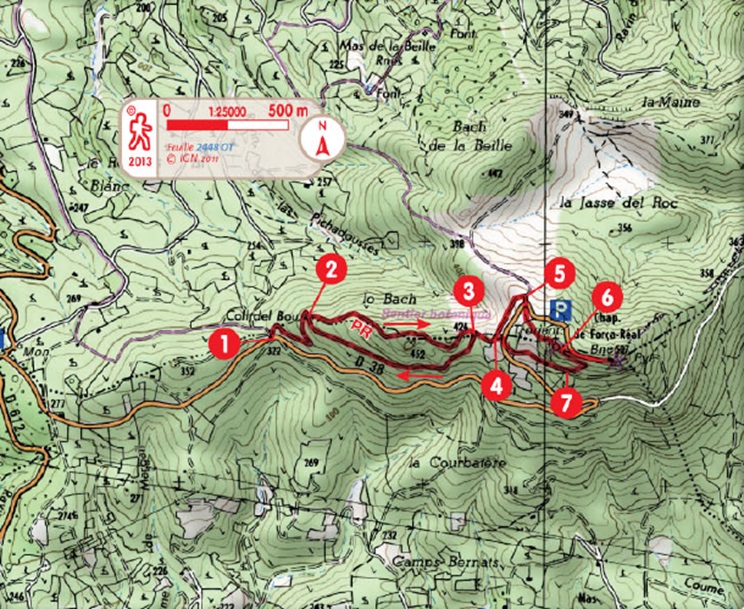 MARKING
Yellow
DIFFICULTIES
2 to 3 > Climb a litle difficult with some slippery shale slabs,
1 At col del Bou, take the botanical pedestrian path to the left. After 2 laces, reach the junction,
2 Abandon the main path to turn left. The route is sometimes steep and progresses in places on slabs of shale (slippery in rainy weather: be careful!). The steep climb ends at the "Great Spurge" sign. Then follows a brief descent of the hillock. Find the main track at a small pass.
3 Proceed to the left for over 100 m.
4 Leave a path to the right and continue uphill below the road.
5 In the bend before the descent, join the road on the right, cross it and go on the opposite path. join the hermitage. Walk the paved alley (petit calvaire).
6 Go to the orientation table of hermitage Força Real (belvedere on the Pyrenees, the pass of  Le Perthus and the fall of  the Albères mountains on the Mediterranean sea).
> Possibility also to go back and forth to the TV relay to see the Corbières, the Fenouillèdes, the plain of Roussillon and the Mediterranean
Go back to  the petit calvaire.
6 Begin the descent of the southern slope by the route « Chemin de Croix / Retour col del Bou ».
7 Leave the path chemin de croix to continue on th opposite, on the flat & marked path « Retour col del Bou ». Cross again the access road to Força Real with a right / left that takes the asphalt on about ten meters.
4 Resume the path up to  the small pass.
3 Continue on the path that bypasses the hill by its southern flank.
2 Finish the descent opposite to find the parking.